Our lab is now fully equipped to perform research at the interface of polymer science and biomedical engineering. Below is a list of our equipment.
We are always looking for collaborations and partners in academia and industry.
If you are interested in working with us or in using any of the instrumentation found in the Smart Polymers for Biomedical Applications Website, please contact Dr. Ecker.
---
Materials Synthesis and Characterization
For the synthesis of our customized polymers, we have:
Speed Mixer from FlackTek Inc. Model DAC 150.1 FVZ-K
Vacuum Oven from Sheldon Manufacturing Inc., model SVAC2E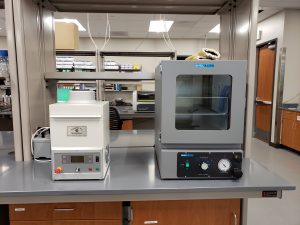 Fume hood
Balance
Spin coater from Laurell, model WS-650MZ-23NPPB
Two UVP Crosslinker, with UV bulbs at 365 nm and 254 nm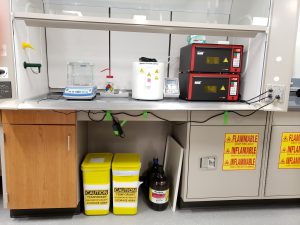 We can cast or spin coat polymers. Curing can be accomplished either through UV irradiation at 254 or 365 nm or thermally.
For the processing and characterization of polymers, we have:
Discovery DMA 850 from TA Instruments, equipped with:
Film/Fiber Tension Kit
Parallel Plate Compression Kit
Submersion Film/Fiber Tension Kit
Submersion Parallel Plate Compression Kit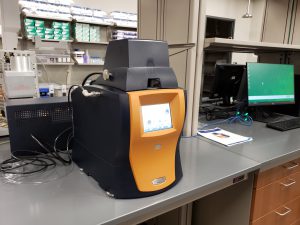 This instrument allows measuring the thermomechanical properties of materials (e.g. polymers, metals) in tension and in compression. That includes the measurement of parameters such as storage modulus E', loss modulus E" and damping tan δ. The submersion fixures allow tho measure thermomechanical properties inside solutions (e.g. water, PBS) to mimic materials behavior in physiological conditions or to quantify plasticization effects.
Maximum Force 18 N
Minimum Force 0.0001 N
Force Resolution 0.00001 N
Frequency Range 0.001 to 200 Hz
Dynamic Deformation Range ±0.005 to 10,000 μm
Strain Resolution 0.1nm
Modulus Range 103 to 3×1012 Pa
Modulus Precision ± 1%
Tan δ Sensitivity 0.0001
Tan δ Resolution 0.00001
Temperature Range: -160°C to 600°C (20°C/min Heating, 10 °C/min Cooling)
Time-Temperature Superposition YES
UniVert from CellScale – Mechanical Testing System
The system is capable of tension, compression, and bending testing at forces up to 200 N. A wide range of grips and fixtures are available to accommodate different specimens and testing modes. Our UniVert system is equipped with a temperature-controlled fluid bath to ensure sensitive biomaterials are tested under the appropriate conditions.
Available Load Cells: 10, 50, and 200 N
Force Accuracy: 0.2% of load cell capacity
Maximum grip separation: 140 mm
Maximum velocity: 20 mm/s
Maximum cycle frequency: 2 Hz
Maximum data rate: 100 Hz
High-resolution CCD imaging with image-based strain measurement tools
Fully featured user interface software for simple, cyclic, relaxation, and multi-modal testing with real-time feedback
LS 100 30 W CO2 laser engraver with honeycomb cutting table and stand-alone exhaust.
Highly versatile professional CO₂ engraving and cutting solution. This allows for cutting of samples into testing geometry. The laser can be adapted to different materials such as acrylics, plastics, coated metals, natural materials (paper, wood, leather, etc.) and soft materials (foam, rubber).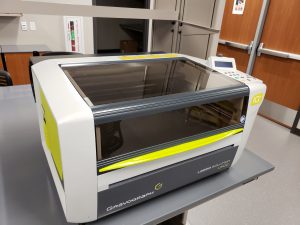 Two IsoTemp Gravity oven 176 L.
Outstanding temperature uniformity and stability to keep samples at the desired condition and wide temperature range: 50 to 250 °C. Optimal for durability studies of materials at various temperatures.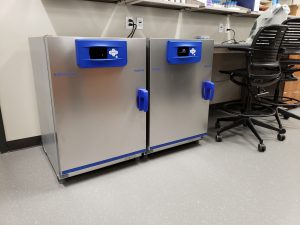 For electrochemical characterization of bioelectronics, we have:
Gamry Interface 1010E potentiostat with ECMB multiplexer. Key features include:
Max Applied Current – ±1 A
Maximum Applied Potential – ±11 V
EIS 10 μHz – 2 MHz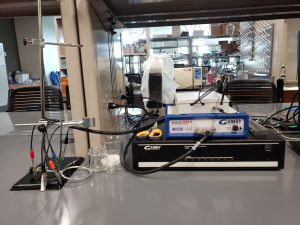 ---
Cell Culture Room
We have also a cell culture room that is equipped with:
Laminar flow hood
HeraCell Vios 160i CO2 incubator
Centrifuge
Incubator-shaker
Incubator
-80 °C Freezer
We can perform various experiments to test for in vitro biocompatibility of biomaterials. That includes, but is not limited to live/dead assays or measuring cellular metabolic activity (e.g. MTT). Please ask us for more details.
---
Fee Structure
The sponsor cost is the service cost if we perform the experiments for you. User cost if you perform the experiments on your own with our equipment after proper training (training cost = sponsor cost). General consumables such as gloves, wipes, disposable pipets, etc. are included. Other materials (e.g. chemicals, ELISA kits, cell cultures) are excluded and must be paid separately. Prices for durability tests and biocompatibility may vary dependent on the complexity of the test. Please contact us to discuss the details and to get a customized quote.
| | | |
| --- | --- | --- |
| Equipment | Sponsor Cost | User Cost (external) |
| DMA dry | $350/hour | $75/hour |
| DMA submersion | $450/hour | $100/hour |
| Polymer synthesis | $450/hour | $75/hour |
| Durability study | Starting at $350/test | Starting at $75/test |
| Biocompatibility test (in vitro) | Starting at $350/test | Starting at $75/test |
| Mechanical testing | $350/hour | $75/hour |